Brain Boost
Brain Boost offers brain health support, via a comprehensive set of ingredients that assist with mental processing and agility.*
Designed to help optimize memory, cognition and mood*
Helps with efficient cellular energy production*
Provides mitochondrial support*
Exerts powerful antioxidant effects*
Has neuroprotective properties that support cognitive function*
Highlights
Brain-supportive nutrients in Brain Boost include acetyl-L-carnitine, phosphatidylserine, Ginkgo biloba, and citicoline.
Helps build phospholipids — vital structural components of nerve cells that assist with the transmission of nervous impulses across nerve cells.*
Acetyl-L-carnitine can pass through the blood-brain barrier to help support a healthy inflammatory response.*
Formulation based upon published research.
Suggested Use
As a dietary supplement, take two capsules per day with meals, or as directed by your health care practitioner.
Product Facts
Provides 500 mg of acetyl-L-carnitine and 250 mg of citicoline per serving.
Contains Ginkgo biloba standardized to contain 24% ginkgo flavonglycosides and 5.4% terpene lactones).
Also includes a unique concentrated extract from the whole coffee berry, which supports neuronal health and is not found in coffee beans alone.
Gluten-free and dairy-free
Suitable for vegetarians and vegans
Why Dr. Ruscio Recommends it
For many patients who have experienced gut dysbiosis and inflammation, symptoms can extend beyond the gut to include "brain fog", poor concentration and memory issues.
In some cases poor cognition can persist despite healthy inputs (e.g. healthy diet, lifestyle, and probiotics). This is where introducing a brain health supplement such as Brain Boost can be helpful.
Brain Boost can help those who have healed their guts and want to feel even better to sharpen their cognitive function.*
Brain Boost ingredients also help to support healthy brain ageing, optimizing brain function and supporting normal memory function and mood.*
Safe and effective formulation — contains citicoline and l-alpha-glycerylphosphorylcholine, which are highly bioavailable forms of choline for improved cognitive performance, and acetyl-L-cysteine, which can decrease depressive symptoms.*
How to Use it
Alone, or as an adjunct to Dr. Rusico's gut health protocol to help sharpen cognitive functioning.
What's Inside?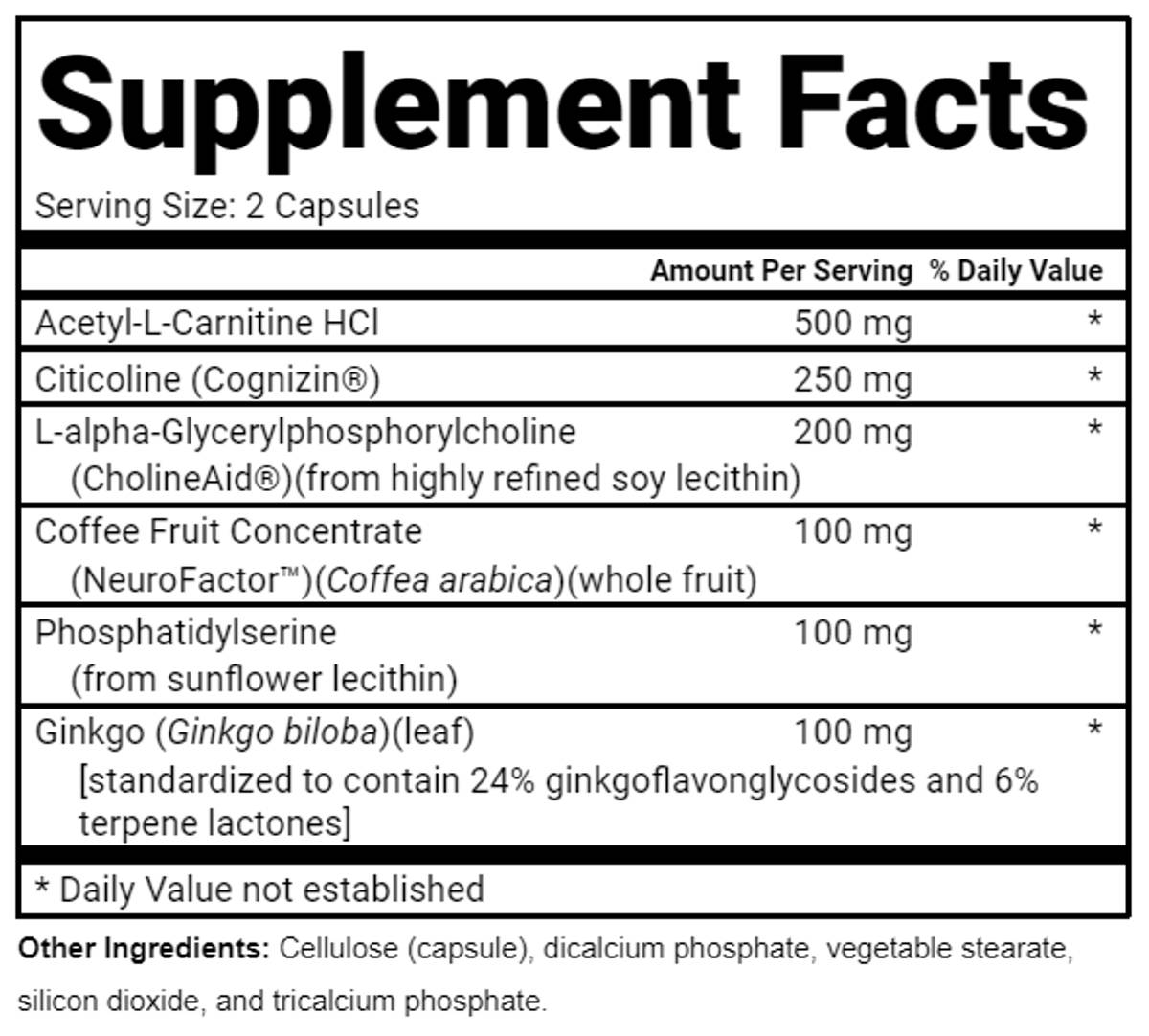 Frequently Asked Questions
Can Brain Boost help with symptoms like brain fog?
Tackling underlying issues such as imbalances in gut bacteria, inflammation, poor diet and food sensitivities are the most important things you can do to tackle brain fog (for this Refer to the full Great-in-8 protocol that Dr. Ruscio uses in his clinic and outlines in his book, Healthy Gut, Healthy You). However, once these steps are in place, Brain Boost can provide extra brain health and cognitive support.*
Can it help the aging brain?
Yes, Brain Boost has ingredients including ginkgo biloba, citicoline and acetyl-L-carnitine that can specifically benefit older people and help protect against age-related neuronal changes that may affect cognitive capacity.*
Will Brain Boost Help dementia?
Some studies suggest that individual ingredients within Brain Boost (though not this product specifically), may help people in the early stages of Alzheimer's and dementia, or to reduce dementia risk.*
Are there any contraindications?
Consult your health-care practitioner before using if you are pregnant or lactating, or if you have or are taking prescription medications, especially blood thinners or anticoagulants.