Intestinal Support Formula Vegetarian
Intestinal Support Formula Vegetarian
Intestinal Support Formula Vegetarian
Intestinal Support Formula (vegetarian) supports a healthy immune and inflammatory response by binding to and combating bad bacteria and other toxins in the gut. A healthy inflammatory response helps ensure that the gut is more able to heal, repair and absorb more nutrients.*
Intestinal Support Formula is a supplemental form of immunoglobulins which are found naturally in the mucosal lining of the human gut.
Immunoglobulins can contribute to significant improvement in digestive and non-digestive issues.*
Immunoglobulins have been shown to help those who did not respond to treatments like diet, probiotics, and soothing agents.
Highlights
Binds to bad bacteria and other toxins in the gut.*
Gluten, milk free
Vegetarian formula made with immunized, powdered whole chicken eggs.
Suggested Use
Ideal for those who do not fully respond to traditional gut treatments like diet, probiotics, and soothing agents.
Can be used periodically to quell a gut reaction or occasional flare up.*
Product Facts
A blend of immunoglobulins
Available as capsules or powder
Vegetarian formula
Free of wheat, gluten, soy, fish/shellfish, milk, tree nuts, and peanuts
No artificial flavors or colors ISF should NOT be the first therapy you try. Diet, probiotics and treating gut infections should always be the first step in your gut healing program.
The missing piece to optimal gut health & immune health support is finally here.*
ISF (Intestinal Support Formula) can contribute to a healthier intestinal lining, improved nutrient absorption and an overall healthier you.*
Why Dr. Ruscio Recommends it
Most gut strategies work to balance the bacteria and fungus in your gut. These approaches include dietary changes and probiotics.*
Immunoglobulin supplementation is novel because it supports the immune system instead. This is often the missing piece for those who have not responded fully to other approaches. Immunoglobulins bind to and help neutralize gut irritants.*
Immunoglobulin supplements work well for stubborn gut issues and have shown a high rate of success. I have been using the bovine-derived (non-vegetarian) Intestinal Support Formula with patients in my clinic and we have seen major improvements. Most patients tolerate Intestinal Support Formula very well.
While this is an exciting new development in supporting gut health, it's very important to always try diet and probiotics first.*
The strongest research into immunoglobulins has been performed with bovine-derived formulas rather than the vegetarian egg-derived formula. Studies using bovine-derived formulas show exciting results.
A few studies have used egg-derived immunoglobulins. These are small and preliminary, but also promising:
A pilot study of 13 patients found improvement in endpoints measured in the study and no adverse side effects. [1]
A small pilot study by a company that produces egg-derived immunoglobulins (this not the most credible source, but worth including because the results are exciting) showed that immunoglobulins may support gut function, promote a healthy inflammatory response, and increase beneficial flora [2]*
This study shows a modest improvement in diarrhea in children infected with rotavirus. [3]
How to Use it
Dosage
Take as capsules or powder, 1-2 times per day, with or without food.
Immunoglobulins have been shown to be especially effective for those who have not been successful with other gut treatments.
Short-Term
As a short term treatment to quell an occasional flare up
Immunoglobulins bind to and helps deactivate toxins in the gut. This helps support a healthy immune and inflammatory response.*
What's Inside?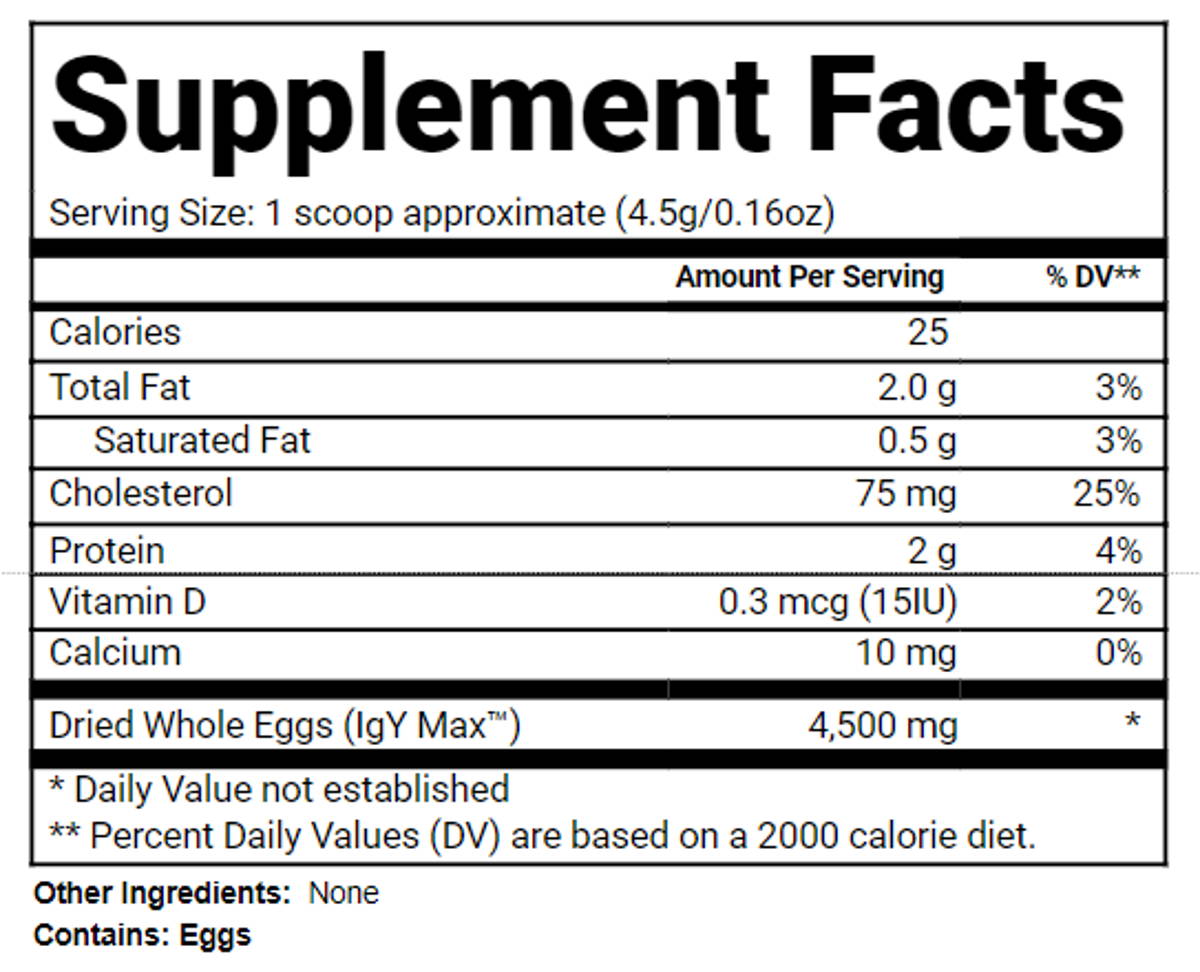 Frequently Asked Questions
Why is it important to address diet, probiotics and other gut therapies before taking ISF?
Good gut health is critical to your overall health and it doesn't pay to take short cuts. I encourage all patients to take the time to figure out the diet that works best, balance your microbiome and, if needed, treat gut infections. These steps will give you lasting results that no pill can duplicate.
How Soon Can I Expect Results?
You should notice an initial response by 1-2 weeks. Peak improvement is usually achieved by 6 weeks.
Do Immunoglobulins Cause Negative Reactions?
Reactions may occur in a small number of patients, however, this supplement is generally well-tolerated.
Will Intestinal Support Formula Work for Me?
While every patient is unique, immunoglobulin supplements have shown very high response rates in clinical research. I have also seen positive responses to Intestinal Support Formula (bovine formula) for at least 50% of patients in my clinical practice.
The vegetarian formula is not as well-researched at regular Intestinal Support Formula, however it has similar properties and preliminary research is promising.