Evolution Whey-Free Meal Replacement
Evolution Whey-Free Meal Replacement
Evolution Whey-Free Meal Replacement
Evolution All-In-One is an easily-digested low allergy meal replacement formula. It supplies high protein and balanced nutrition, including phytochemical-rich vegetables, berries, and glutamine.
Provides nutritional value equivalent to a healthy light meal or snack
Useful to replace breakfast or lunch—or for a post-workout snack
Great tasting vanilla flavor
Rich in high-quality pea protein, good fats, and antioxidants
Just add water, milk, or a milk alternative
Free from common allergens, including dairy and gluten
Highlights
Made with whole food ingredients
Helps control hunger and create a feeling of fullness
Aids muscle growth
Supports a healthy gut
Helps maintain good energy levels and keep blood sugar stable
May help support weight loss
Suggested Use
To replace or supplement a meal, add one scoop to water, milk of your choice, or your morning smoothie. Blend, stir, or shake until fully dissolved. Add other powdered supplements, such as probiotics, if desired. Evolution tastes great on its own! But you can also customize to your own taste (such as adding ice, banana, berries, cacao powder, etc.).
Product Facts
Provides 20g of protein and 1.5 g of glutamine per serving.
Source of easily assimilated MCT (medium chain triglyceride) oil, 5g per serving
Rich in antioxidants from 11 different green veggies and berries
Low glycemic formula
Dairy, gluten, and soy-free formula (suitable for vegans)
Here's what makes Evolution different.
Evolution contains high quality pea protein, balanced nutrition from fruits and vegetables, and none of the sugar or artificial sweeteners often found in similar products. Use it alongside Elemental Heal, or without it. Designed to support you as your health evolves.
Why Dr. Ruscio, DC Recommends it
A well-formulated meal replacement shake (such as Evolution All-In-One) is a much healthier option than grabbing fast food for people needing on-the-go gut-friendly meals.
Those who struggle with blood sugar or have pre-diabetes or other metabolic risk factors (such as high blood pressure or high cholesterol) may find meal replacements useful.
A meal replacement powder made into a breakfast drink is a good choice if you can't face food early in the morning.
Also useful as a post-workout snack to refuel and repair muscles after exercise.
A low allergen liquid shake is often easier to digest and assimilate—and easier on the digestive system—than solid food.
Evolution is a good choice for people who have largely recovered from digestive symptoms and are now looking for ongoing maintenance and support.
Good for aiding portion control. Used to replace one or two of your daily meals, Evolution All-In-One can be part of a healthy weight management diet.
What the Research Shows
A 2018 randomized controlled trial (RCT) with 162 overweight/obese adults found that 16 weeks of using high-protein meal replacements as part of a calorie-controlled diet improved metabolic health. Measurements that improved included cholesterol, triglycerides, insulin, blood glucose, and blood pressure [1].
In another 2018 RCT, full or partial replacement of meals with shakes for 12 weeks improved hemoglobin A1c (a measure of average blood sugar over the past 2-3 months), fasting blood sugar, and blood pressure in type-2 diabetes patients [2].
A 2019 review found that when dieters using meal replacement shakes were compared with dieters on other diets (and both groups received standard levels of support), the meal replacement groups lost 5 lbs more on average per year.

If meal replacement users received a higher level of psychological and practical support, the difference in weight loss was even higher — they lost 13.5 lbs more than standard dieters given standard support [3].
When researchers looked for adverse effects of meal replacements, two studies reported no medical or nutritional issues. Five more found the shakes actually improved the nutritional quality of the participants' diets [3].

Regarding pea protein specifically, A 2020 systematic review found evidence that this plant protein could:

Help people feel fuller.
Smooth and minimize blood sugar response after a meal.

Pea protein, used alongside high-intensity training sessions, produced similar benefits to people's fitness gains as whey protein. These benefits included [4]:

Improvements in body composition.
Increase muscle thickness.
Improved workout performance and strength after eight weeks.
Fruit and vegetable supplements may help to reduce blood pressure, normalize cholesterol levels, and improve overall heart health, according to a 2019 systematic review of 13 clinical trials [5].


Fruit and vegetable supplements (including powders and concentrates) may also:
Medium-chain triglycerides (MCTs) in a meal replacement shake may contribute to slowed gastric emptying and better satiety, a 2019 study suggested. It showed that MCTs were more satiating than LCTs (long-chain triglycerides), especially when consumed in liquid form. Consuming liquid MCTs led to lower food intake throughout a 24 hour period [9].

MCTs may also:
How to Use it
As a complete meal replacement
Replace breakfast, lunch, or dinner with Evolution Meal Replacement.
Mix it into your water bottle for a delicious, gut-healthy snack on your way to work, at the gym, or wherever else your day may take you.
Use it as part of your morning smoothie, as a post-workout shake, or just to give yourself (and your gut) a nutritional boost.
What's Inside?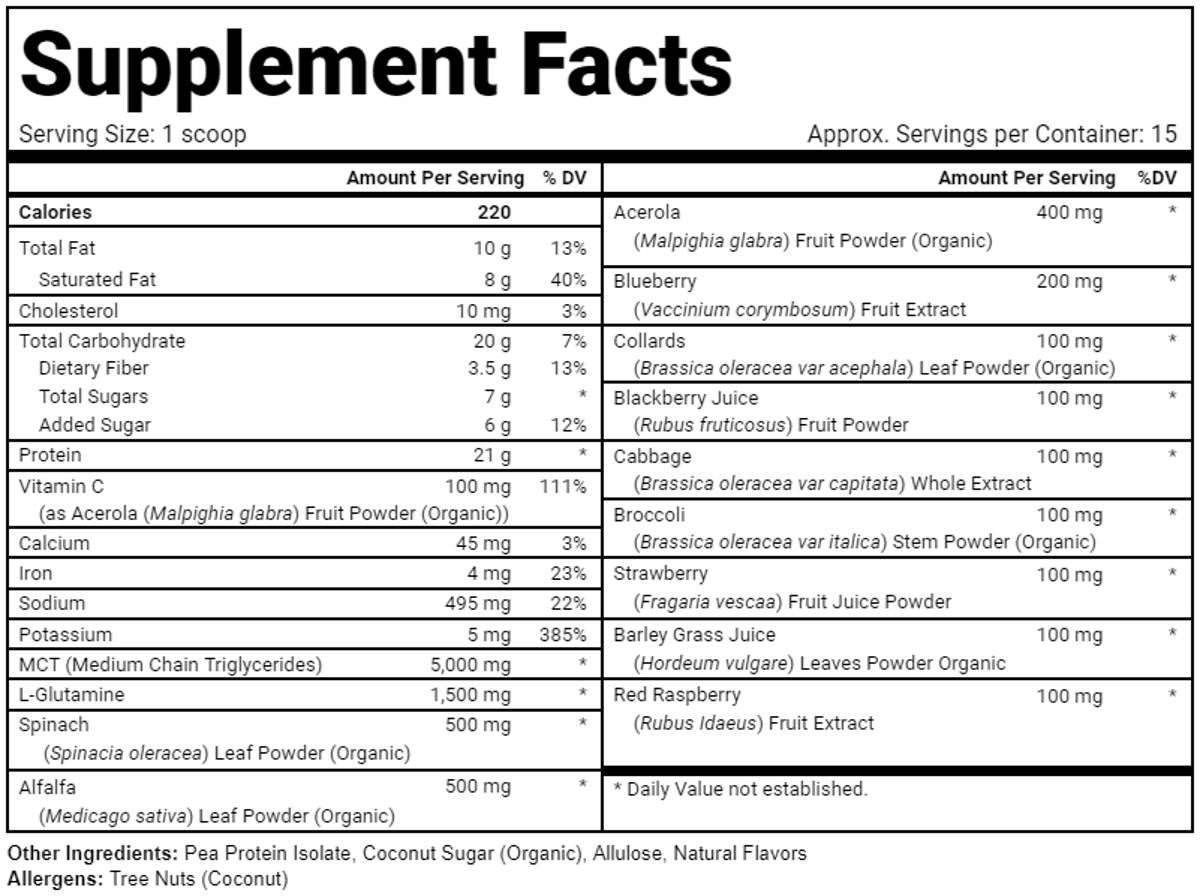 Frequently Asked Questions
Can I replace all my meals with Evolution All-In-One?
We suggest replacing only one or two meals a day with Evolution All-In-One. For the third meal, aim to get a balance of food groups and eat a meal portion size that will help to satisfy hunger but not make you feel over-full. A Paleo-style diet has worked for many Ruscio Clinic patients looking for a healthy diet that will not overstress the gut.
What does "Evolution" in the name mean?
The Evolution-All-In-One name partly reflects the gut health journey that many of our users are on. Whereas previously, you might have needed a more specialized therapeutic product like Elemental Heal, your gut is now functioning much better, and when you want a meal replacement you can move on to a more mainstream meal product like this one. While the ingredients in Evolution-All-In-One were not necessarily consumed by our ancestors, the name of this formula was also inspired in part by an ancestral eating philosophy, which minimizes the consumption of industrialized, processed foods and refined carbs.
Does it provide enough fiber?
A serving of Evolution All-In-One supplies 3.5g of fiber, which is a modest amount. While some fiber is important for a healthy digestive system, too much, especially of certain prebiotic fibers, can create gut symptoms for some sensitive individuals. The level and type of fiber in the Evolution meal replacement formula is fitting for users prone to some level of gut sensitivity.
Is pea protein high quality?
Yes, pea protein isolate is a high-quality source of protein compared with many other plant proteins. Studies show the protein content of peas can compete equally with casein and whey (cow's milk protein) for building muscle [14]. The other big benefit of pea protein is that it's generally highly suitable for people with allergies and intolerances.
When should I use this product versus Elemental Heal?
Both are comprehensive meal replacements, but Elemental Heal is made with pre-digested nutrients and is, therefore, particularly helpful for people with difficult or protracted gut health problems. If you are having an acute clinical flare in symptoms or need a complete gut reset, Elemental Heal is the better choice. It's also the product of choice if you are doing a modified fast or liquid-only diet where a meal replacement is your sole source of nutrition. Evolution All-In-One has a broader application for people without significant gut sensitivity, though it is still low in ingredients likely to trigger food intolerance reactions.
What benefit do the greens and berries supply?
The 11 different greens and berries supply a large range of antioxidants, beneficial phytochemicals, and trace nutrients needed for good health and a healthy immune system.
Are there any contraindications?
Consult your healthcare practitioner before using a meal replacement if you are pregnant or breastfeeding. Meal replacement products are also not recommended for people who have experienced eating disorders.
What is the added glutamine for?
What are the sweeteners in Evolution-All-In-One and why are they there?
Evolution-All-In-One has only the minimum amount of sweetness consistent with making a palatable product. We use small amounts of coconut sugar, chosen because it has a relatively low glycemic index and so won't spike blood sugar. The other sweetener used in tiny amounts is allulose, a rare natural sugar that has 90% fewer calories than standard sugar and which produces negligible increases in both blood glucose and insulin levels.